The oak tree family is made up of hundreds of species. This hardwood species has been a staple tree in our society for centuries. Oak trees can live well over 200 years and provide hundreds of benefits including lumber and food for wildlife. Among all Oak species, the white oak forever earned its place as the "king of oaks" due to the strength and durability of the wood and its versatile use. Below listed are the most commonly found White Oak species across the globe:
Commonly known as common oak, Pedunculate oak, European oak or English oak, is a species of flowering plant in the beech and oak family, Fagaceae. It is native to most of Europe west of the Caucasus. The tree is widely cultivated in temperate regions and has escaped into the wild in scattered parts of China and North America. Quercus robur is the type species of the genus (the species by which the oak genus Quercus is defined), and a member of the white oak section . The populations in Italy, southeast Europe, and Asia Minor and the Caucasus are sometimes treated as separate species, Q. brutia Tenore, Q. pedunculiflora K. Koch and Q. haas Kotschy respectively. Quercus robur is planted for forestry, and produces a long-lasting and durable heartwood, much in demand for luxury flooring, interior and furniture work. The wood of Q. robur is identified by a close examination of a cross-section perpendicular to fibres. The wood is characterized by its distinct (often wide) dark and light brown growth rings.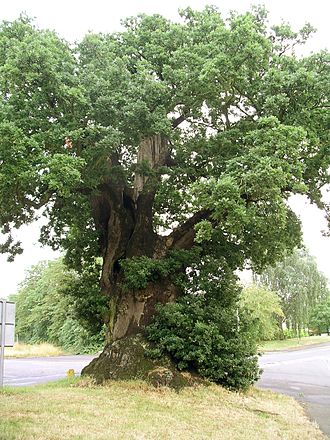 An old English oak (Quercus Robur), Baginton, England
Commonly known as the Sessile oak, Cornish oak, or Durmast oak, is a species of oak tree native to most of Europe and into Anatolia and Iran. The Sessile oak is the national tree of the Republic of Ireland, and an unofficial emblem in Wales and Cornwall. Sessile oak is one of the most important species in Europe both economically and ecologically. Oaktimber is traditionally used for luxury wide plank flooring, building ships and furniture. Today the best woods are used for quality cabinetmaking, veneers and barrel staves. Rougher material is used for fence construction, roof beams and specialist building work. It is also a good fuel wood. During autumns with good acorn crops (the mast years) animals are traditionally grazed under the trees to fatten them. In cultivation, this tree has gained the Royal Horticultural Society's Award of Garden Merit.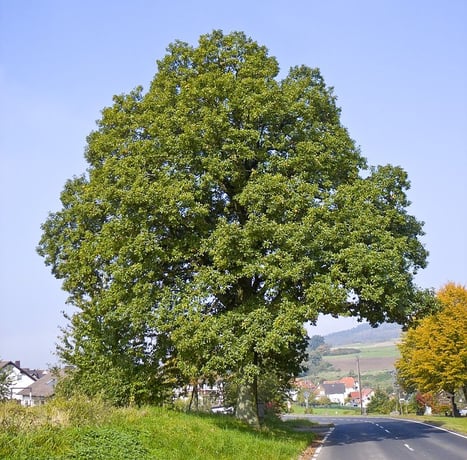 A Sessile Oak ( Quercus petraea), Roßberg, Hesse, Germany
The white oak, is one of the preeminent hardwoods of eastern and central North America. It is a long-lived oak, native to eastern and central North America and found from Minnesota, Ontario, Quebec, and southern Maine south as far as northern Florida and eastern Texas. Specimens have been documented to be over 450 years old. Although called a white oak, it is very unusual to find an individual specimen with white bark; the usual color is a light gray. The name comes from the color of the finished wood. In the forest it can reach a magnificent height and in the open it develops into a massive broad-topped tree with large branches striking out at wide angles. Quercus alba is cultivated as an ornamental tree somewhat infrequently due to its slow growth and ultimately huge size. It is not tolerant of urban pollution and road salt and due to its large taproot, is unsuited for a street tree or parking strips/islands. It is usually used to make wood craft, construction, shipbuilding, agricultural implements, and in the interior finishing of houses.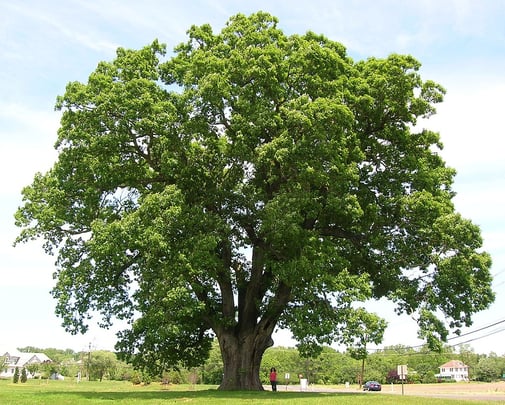 A large white oak, (Quercus Alba), New Jersey, US
The swamp white oak, is a North American species of medium-sized trees in the beech family. It is a common element of America's north central and northeastern mixed forests. It can survive in a variety of habitats. It forms hybrids with bur oak where they occur together in the wild. It is one of the more important white oaks for lumber production. The wood is similar to that of Q. alba and is not differentiated from it in the lumber trade. In recent years, the swamp white oak has become a popular landscaping tree due to its relative ease of transplanting. Although the wood has a beautiful grain, it is difficult to season without warping, and therefore the Garry oak has not historically been regarded as having any commercial value and is frequently destroyed as land is cleared for development. Recently the wood, which is similar to that of other white oaks, has been used experimentally in Oregon for creating casks in which to age wine. In Washington, Garry oak has been used for aging single malt whiskey.
Swamp White Oak tree, (Quercus bicolor), Morton Arboretum, US
This is an oak tree species with a range stretching from southern California to southwestern British Columbia. It is commonly known as the Oregon white oak or Oregon oak in the United States and as the Garry oak in Canada. It grows from sea level to 210 meters (690 ft) altitude in the northern part of its range, and at 300 to 1,800 meters (980 to 5,910 ft) in the south of the range in California. The eponymous Nicholas Garry was deputy governor of the Hudson's Bay Company, 1822–35.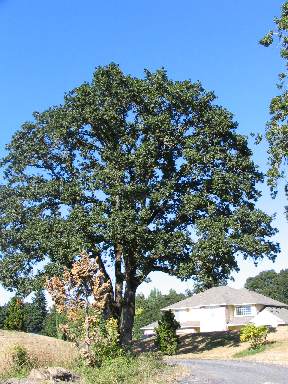 Oregon Oak (Quercus Garryana), Hillsboro ,OR, USA
The Galcham oak or Oriental white oak, is a species of oak in the family Fagaceae, in the white oaksection Quercus. It is native to Korea, Japan (where it occurs in Honshu, Shikoku, and Kyushu), China and also very locally in Taiwan. The wood is used in eastern Asia for boat building and wood flooring for houses. The seeds can be crushed into a powder and used as a soup thickener and for mixing into cereals and breads. The seeds when roasted can also be used as a substitute for coffee. Galls produced by the larvae of insects are a rich source of tannin.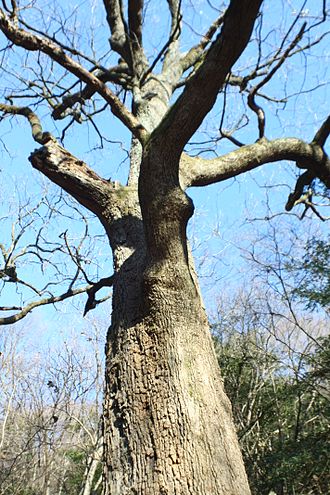 Oriental White Oak (Quercus Aliena) in winters
The Mexican white oak, Monterrey oak or net leaf white oak, is a North American species of oak. It is widespread in Mexico, Guatemala, and Honduras, and known from a single population in the United States (about 30 km north of the Río Grande in Val Verde County, Texas) but widely planted as an ornamental.
Mexican white oak (Quercus polymorpha), Springs Preserve , Las Vegas
The Arizona white oak, is a North American tree species in the beech family. It is found in Arizona, New Mexico, western Texas, Sonora, Chihuahua, Coahuila, Sinaloa, and Durango. The Arizona white oak can be found in a vast array of habitats such as savannas, grasslands, and chaparrals. The wood is usually used for fuel. Since the wood of the Arizona white oak is hard, heavy, and strong, it is rarely used for commercial reasons such as furniture production. The Arizona white oak is very important to livestock and wildlife because the acorns it produces provide food for cattle and other wildlife. It also provides cover for such animals like deer, turkeys, javelinas, desert sheep, songbirds, and quail. The white tailed deer is also known to utilize it for cover. For white-tailed and mule deer, the Arizona white oak is highly palatable as well. The Arizona white oak can also be used as an ornamental plant.
Quercus Lobata
Commonly called the valley oak or roble, grows into the largest of North American oaks. It is endemic to California, growing in interior valleys and foothills from Siskiyou County to San Diego County. Mature specimens may attain an age of up to 600 years. This deciduous oak requires year-round access to groundwater. Valley oak wood has a small, but significant market for use in cabinetry though, and is also suitable for hardwood flooring. Tyloses present in the pores of valley oak wood increases its impermeability to fluids allowing it to be used in the production of water-tight vessels.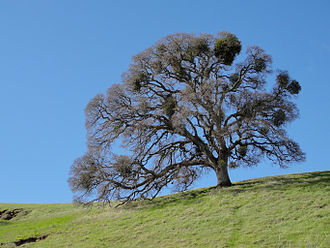 Valley Oak (Quercus Lobata), Mount Diablo, Califonia, USA
Reference: Wikipedia