Hardwood floors come in different widths. If you are in the market shopping for hardwood flooring, then the question "Narrow or wide planks and what is the best choice for my living space?" must be on your mind. In this blog article we will talk about the difference between a narrow and wide plank and which might be more suitable for your space.
Before we get stated, it is important to mention that planks are not the only kind of hardwood flooring products available. There is also strip and patterned floors that are manufactured and sold in the market. Now let's jump into the difference between a wide plank and a narrow plank.
Wide Plank
Dimensionally speaking, wide planks are boards with a width anywhere between 5-14 inches. In general, the most commonly used wide plank products width range between 5-8 inches. Wide planks also tend to have longer lengths as they are sourced from longer trees. Wide plank also shows more of the wood grain, knots and other signature details that some designers find quite charming. ​Wide plank flooring is cut from the thickest part of the tree, the trunk. Limbs are excluded not only as smaller, but inferior, source materials. Wide plank flooring also means fewer seams between boards and thus fewer interruptions of the natural lines of both the wood and the room.
Narrow Plank
In terms of dimensionality, narrow planks width ranges anywhere between 2-5 inches. Most standard widths available are 2 ¼ and 3 ¼ inches. Narrow planks are cut from every part of the tree, with lengths ranging from one foot to 5 feet. They tend to have more seams and generally make a floor look "busier".
Castle Bespoke Mainstreet Raw wide plank v/s
Standard 3 1/4" Solid Common White Oak Narrow plank
What flooring will be a good match for your space?
The type of wood floor you choose can make your room look bigger, busier, cozier or even more relaxed so it's important to know which width to go for to create the look you desire. In addition to durability and budget, room size and style are the most two important factors to consider while choosing between the two plank options.
Room Size
Small Room: In a small room, narrow planks can create an elongated linear look which can make a small room look longer and formal. Whereas wide plank floors can make a small room feel cramped as a wide plank tends to have more grain and knots which can interfere with the poised ambiance of the room. However, this can be mitigated by using more cleaner grade wide planks with less knots and cleaner grain pattern that can end up giving a more relaxed and seamless feel to the room. If you decide to use wide planks in a small room, lay the planks parallel to the longest wall to make the room look longer and airier.
Big Room: In big rooms one can choose to go with either narrow or wide wood floor boards. Wide planks are trending to be a more popular choice in big rooms as they make the rooms cozier. Whereas, narrow planks can create the illusion that an area is even bigger and can create a more formal look.
Style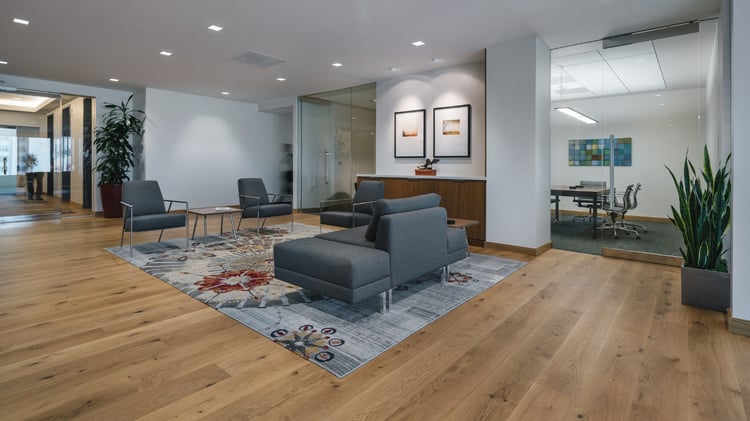 Natural looking Tawny Gold from Castle Bespoke Country Club Collection in Geffen Mesher lobby in downtown Portland
Durability
While choosing a hardwood floor, its crucial to look at the environmental conditions surrounding your living space. Humidity and moisture are major factors to consider while choosing between narrow and wide plank flooring. Wide plank floors need more space to expand and contract with humidity when compared to Narrow planks. This means they won't shift as much with changes in humidity and will be less likely to cup or gap. If there is a lot of fluctuation in humidity, narrow solid plank flooring or engineered wide Plank flooring may be a good choice for your home. Generally, wider boards tend to be less stable than narrow planks due to the size. However, high quality wide boards in engineered wood form are as much dimensionally stable as a narrow board as the structure of an engineered board gives the wood veneer added stability. Also, as engineered boards are more sustainable compared to solid as they only use a relatively small veneer (around 2-6mm). With engineered hardwood planks mills can make more boards out of the limited wood availability. Budget
Because wide planks are sourced from older, larger trees, the larger widths are less common. As a result, wide planks are generally more expensive than narrower planks. A commonly sold white-oak narrow plank can cost anywhere between $3-$6. A wide plank can range anywhere between $7- $15 unfinished and $10-$21 pre-finished.