Wood flooring remains popular in high foot traffic areas such as restaurants, hotels and commercial spaces, due to its natural look, rugged beauty, fashion appeal, and resilient nature. Wood evokes a sense of durability and warmth that is unrivaled to other surfaces. First and foremost, one needs to be realistic with their expectations whilst considering a wood floor. Wood is a natural product, and it can be dented, scratched, gouged, burnt, or otherwise damaged through a wide variety of destructive actions. Once this fact becomes understood and one become comfortable with the limitations of wood flooring, then we can look at options within the different ranges of wood flooring that are best equipped to avoid potential damage, and/or are easily repairable.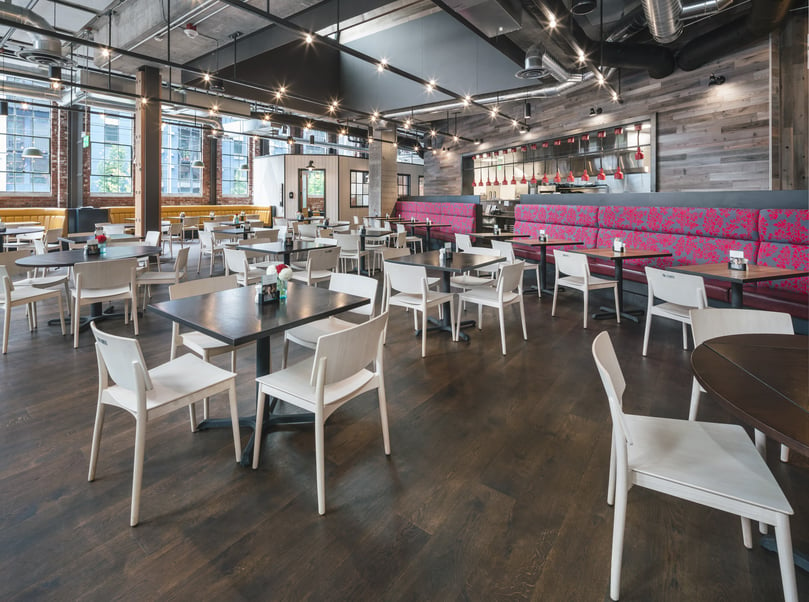 A simple 3 step process can help you in making a decision on your wood floor:
Selecting a species
There are various species of wood floors available in the market today, however white oak has long been a favorite, and for a good reason too. Firstly, white oak is a relatively stable species (data), as well as a tough species, registering 1,360 lbf (6,000 N) on the Janka scale. These two features are important, however, another key benefit is the actual grain structure of the oak. Because White Oak has what we would typically call an active grain structure, this draws the eye away from small dents and gouges that may appear in your wood floor over the years. This is particularly true when selecting a live-sawn or French-cut format. Other species of wood are harder (such as eastern hard maple), but maple isn't a great choice for restaurants or commercial spaces, because of its even grain and uniform look. Dents from restaurant chairs, gouges from rolling suitcases, or dirt tracked in from the sidewalk, will all be much more visible on a maple floor when compared to white oak. Maple is great for things such as gymnasium floors, while white oak is great for restaurants and commercial spaces.
Selecting the size and shape of plank
Because restaurants and commercial spaces can be subjected to greater than average amounts of moisture, it is advised to pay careful attention to the stability of the plank. While a solid plank can be used on narrow strip floors such as 2 ¼" or 3 ¼", any wide plank floors (such as 5", 6", 8" or 12") should be an engineered format for greater stability. In general, wide plank flooring tends to showcase more grain and texture of the wood while giving an airy, open feeling to the space. Designers admire the wider plank for its flexibility in creating the choice of look for the place- be it rustic or contemporary. Choose an engineered floor with an exterior grade Baltic Birch core backing for the greatest level of dimensional stability. Floors are sometimes textured (wire brushed, or hand scraped) on the top surface for a more rustic look. This can help hide imperfections down the road, but it can also create spots for dirt and water to collect down in the grain and can also make the floor more difficult to maintain or repair in the future, so make this selection with caution (Refer to Castle Bespoke Wood Care Guide for proper care/maintenance instructions). When you look at a wood floor plank, the amount of solid wood above the tongue and groove structure is what we call the "wear layer". This wear layer will control how many times the floor can be sanded and refinished. This is important, as your floor WILL need to be sanded and refinished at some point. Look for a wood floor that can be sanded down to bare wood and refinished at least 2 or 3 times. Premium quality engineered floors such as Castle Bespoke Country Club, can be sanded and refinished up to 5 times or even more.
Selecting the Floor Finish
Most clients would rather not have the mess and downtime of sanding a floor on-site, however they may be attracted to the quality and repairability of a site-finished floor. Many have realized to their disappointment after selecting a cheap factory finished floor, that repairs or individual plank replacements are difficult or even impossible. We like to recommend a hybrid system that gives the best of both worlds. Start with a wood plank that is tough enough to be sanded/finished in place, and then hand-oil the planks off-site. What this does is guarantees that future repairs are simple, avoids the mess of site finishing, and still provides a unique, one of a kind floor surface. Check out Castle Bespoke custom hardwood flooring services for a floor that can be custom finished off site with ease of simple future on site repairs.