Hardwood is an increasingly popular flooring option. According to the Magazine of the National Wood Flooring Association, "In 2019, two-thirds of contractors expect wood flooring sales to continue to grow by at least three percent." If you're thinking about investing in hardwood flooring, it's important to have all the information possible. In addition to considering the flooring's species, structure, grade, dimensions texture, finish, you should also pay attention to the type of sawn milling used.
Milling refers to how a woodworker divides a log into floorboards. This process impacts its structure and appearance—especially its grain. There are four main types of milling to choose from: live, plain, rift, and quarter. To help you choose which option is right for you, check out this guide to the different types of lumber cuts.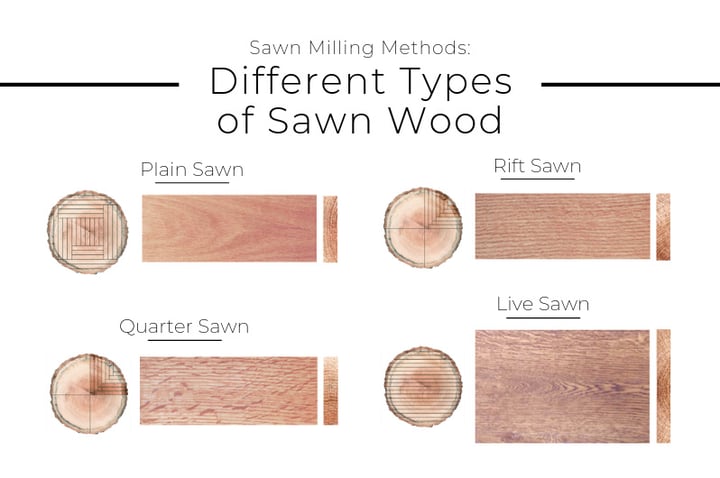 Live Sawn Milling
Live sawn milling is the newest form of milling. It involves directly slicing through the log in a single direction without changing its orientation. This process results in a unique grain that combines that of the other three milling methods on this list. While the wood's grain resembles that of quarter sawn on the outer regions, it takes on the appearance of plain sawn wood near the center. Due to the growth rings of the log, live sawn milling gives the surface of the wood an attractive cathedral appearance. At Castle Bespoke, we exclusively deal in live sawn flooring because it is the most efficient and sustainable option. Live sawn milling utilizes 1/3 amount of oak compared to solid floor and harvests the maximum amount of wood from the log—unlike other milling methods. This long-lasting wood option is especially beneficial for allergy sufferers because it doesn't include any gaps between planks. As such, it won't trap any dust or other allergens. Another benefit of live sawn milling is that it is very versatile—live sawn wood can take on a finish very well which provides homeowners with a wide array of colors and styles to choose from. For these reasons, live sawn milling is a popular choice of cut.
Plain Sawn Milling
Plain sawn is the least expensive and most efficient way to cut lumber into flooring planks. As such, it is also the most common. Plain sawn milling involves cutting through the center of the lumber to create parallel planks. One main advantage to plain sawn milling is that it results in beautiful grain patterns. The grain of a plane sawn milled board has a tangential grain—annular rings that are typically no more than 35 degrees to the face of the board and resemble a unique cathedral appearance. The downside to plain sawn milling is that it produces more material waste than live sawn milling. Additionally, the tangential grain results in potential structural issues such as a greater likelihood of cupping and twisting.
Rift Sawn Milling
For the rift sawn milling method, woodworkers mill boards perpendicular to the growth rings of the tree. As a result, the flooring has consistent long and straight grain patterns. Admired for its beautiful grain and high stability, rift sawn milling is the most expensive and rare milling method. The higher cost is largely due to the amount of waste that occurs, as well as the labor required to cut each individual plank.
Quarter Sawn Milling
Quarter sawn wood has a straight, striped grain pattern and distinctive flecking patterns in red and white oak planks. Its name comes from the process of sawing the logs into four quarters with right angles ending towards the log's center. These quarters are then plain sawn which helps them resist cupping and gives the flooring a unique linear grain pattern. This process produces more waste than live and plain sawn milling but not as much of a rift. Benefits of quarter sawn milling are that it produces dimensionally stable planks which many commend for being resistant to water damage.