Parquet flooring refers to hardwood flooring designs that are constructed from small planks and positioned to form geometric patterns. After peaking in popularity in the 1960s, this elaborate flooring design has recently come back into the spotlight. If you're considering making a bold statement with your flooring this year, read on to learn about the many different patterns of parquet flooring there are to choose from.
Chevron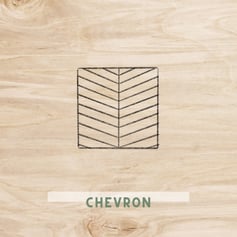 Chevron parquet flooring features a diagonal wood pattern which produces a strong striping effect. Creating an arrow point design, chevron planks are cut at an angle and installed so that each plank meets the end of another. The pattern may be installed diagonally or parallel to the wall depending on preference. Benefits of the chevron pattern are that it creates long lines and gives the illusion of a larger space.
Herringbone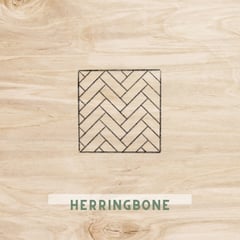 Currently, herringbone is one of the most popular styles of parquet flooring. Similar to the chevron style, herringbone also includes equally-sized planks that are installed in a sort of zig-zag pattern. Unlike chevron, however, herringbone planks are cut into rectangles rather than at an angle. After being cut, the planks are arranged so that the end of each plank touches the side of another. This formation gives herringbone flooring great dimensional stability because the boards are pushed against each other, limiting movement. The planks can be arranged to form a variety of patterns which include square, diagonal, and single.
Mosaic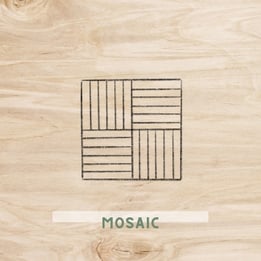 Also known as "finger strip parquet," mosaic hardwood flooring is an elegant parquet option that provides a modern take the traditional style of marble mosaic palace floorings. Such flooring features a variety of different geometric patterns which are created by stitching small wood strips together to form panels. These panels can either be identical in shape and size or vary in length, width, and wood species. To install the panels, a full trowel adhesive method is used before sanding and finishing the floors on the job site. When applied to a wall or ceiling, however, the panels must be installed over a plywood substrate. Mosaic hardwood flooring is an especially popular option for backsplashes, office floors, and even kitchen counter tops. At Castle Bespoke, our mosaic hardwood designs feature an elaborate inlay of solid French Cut edge grain European White Oak. To give your space a unique appearance, our mosaic panels can be applied to create patterns or long lines that accentuate your home's design.
Parquet de Versailles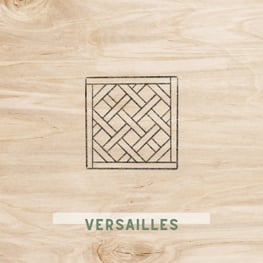 Invented in the seventeenth century, Parquet de Versailles is a high-end parquet design. The design includes interlaced diagonals and square panels and continues to inspire and influence modern parquet flooring. Best known for replacing marble floors in the Palace of Versailles, this historic style is hand-assembled and doesn't use any glue. Originally, installers would arrange it starting from the fireplace. Today, however, designers will typically pose the flooring diagonally from the function of the room.
Bordeaux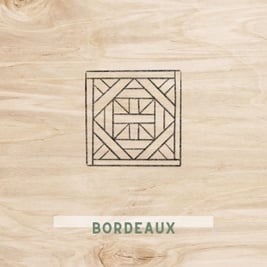 This traditional French-inspired design features planks of varying thickness which are arranged to form multiple geometric designs. Such shapes are arranged in a complex parquet pattern and framed by a square border. As a result of this unique formation, the Bordeaux design does a good job of showcasing the distinct characteristics of wood grain.
Basket Weave/ Double Basket Weave, Square Basket Weave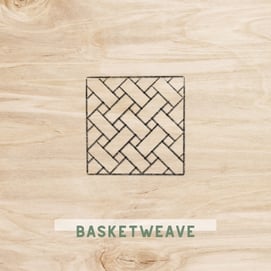 Basket weave parquet design is an attractive pattern for rooms of all sizes. Fittingly, the basket weave design arranges planks of even-width into a pattern that resembles that of a wicker basket. This style of parquet flooring is typically made with single-shade, light-colored wood planks. However, some homeowners choose to use darker or different colored boards to create a more-unique appearance. There are a variety of different variations of the basket weave pattern to choose from which include double basket weave and square basket weave.
Chantilly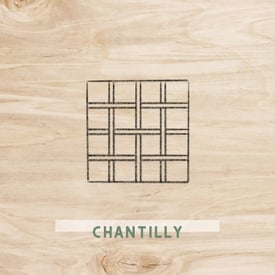 Chantilly is a classic parquet pattern that helps add depth and movement to a room. The design includes a square border that is comprised of evenly-cut rectangular planks which encloses an interlacing arrangement of plus sign-shaped patterns. If you're interested in installing one of these unique patterns, Castle Bespoke offers a variety of luxury wood patterned flooring to help you achieve the parquet design that you desire. According to Realtor.com, installing hardwood floors typically yields a return on investment that is within the 70 and 80 percent range. As such, you can be assured that investing in our hardwood floors is a smart financial decision as well as an aesthetically pleasing one.