A floor finish selection is an essential part of protecting your hardwood from damages due to water spills, dents and scratches. Different from stains which are used to give color to the wood floor, finishes are applied to provide a thin protective layer over the wood to keep it shielded from daily wear and tear. Some finishes, such as penetrating hard wax oils, provide both finish and color in a single coat, but read on to explore some of the different finish types.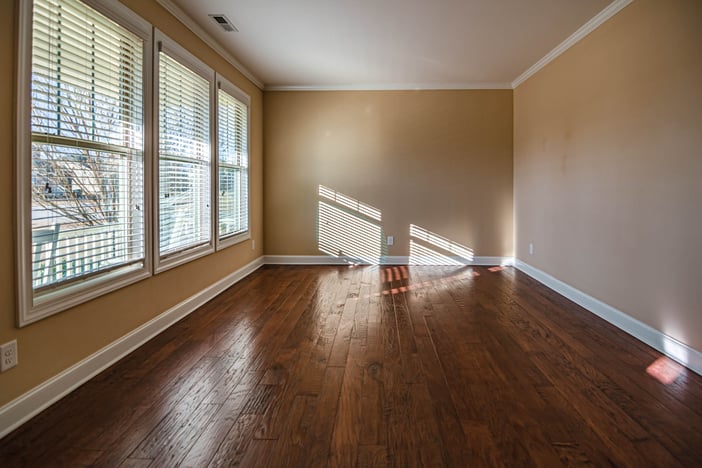 Conversion Varnish:
Conversion Vanish is a type of two component clear Swedish finish which uses acid as a Catalyst. Clear and transparent, a conversion varnish gives a better UV protection to a hardwood while enhancing the look of the floor with a choice of gloss, matte or satin sheen. It is ideal for high foot traffic floors which are susceptible to daily wear and tear such as bars and club floors, schools and universities. You can find two types of conversion varnish both solvent based, and water based. Popular brands: Giltsa Conversion Varnish System. This finish option requires full face respirator protection, and allow several days for toxic fumes to ventilate.
Lacquer:
Lacquer base is a quick drying chemical solvent which leaves the solids to create a protective surface on the applied surface after the base evaporates. This finish made up of acrylic or nitrocellulose solids. Lacquer generally brings a glossy look to a floor and can be sprayed or applied using a brush. Lacquer is quick, and inexpensive, however not necessarily a very tough finish. Lacquer is more frequently used for baseboards, cabinetry, or other vertical applications.
Oil Based Polyurethane:
An oil-based polyurethane consists of oil modified polyurethane resin and mineral spirits (solvent) and driers. Suitable for interior use in commercial and residential settings, oil bases polyurethanes naturally have a slight yellow to an amber type color. Oil based urethanes tend to have a strong fumy odor which dissipates after a few days of curing process. A benefit of oil-based urethane over water-based finish is that they tend to be more durable and long lasting, however the benefit gap seems to decrease as water-based technology keeps evolving. Suitable for both residential and commercial use. Popular brands: Bona Woodline Poly, DuraSeal. Very common for gymnasium flooring in a high gloss application.
Water based Urethane:
Water-based poly urethanes are made up of water, polymeric resins and silica derivatives and contains almost half the amount of VOC compared to oil-based finishes. Water based is a clear finish and has a slight odor and which lingers for less time as compared to an oil-based finish. The slight advantage of a water-based finish is that it will not give a yellow tint to your floor as compared to traditional oil-based finishes. Moreover, water-based finishes quicker dry time but that also mean more chances of bubbles on your floor. Suitable for heavy-traffic residential areas such as kitchens, entryways, family rooms, homes with pets, children and high foot traffic and commercial areas such as restaurants, offices, retail stores. Popular brands: Bona Traffic, Pallmann Gold.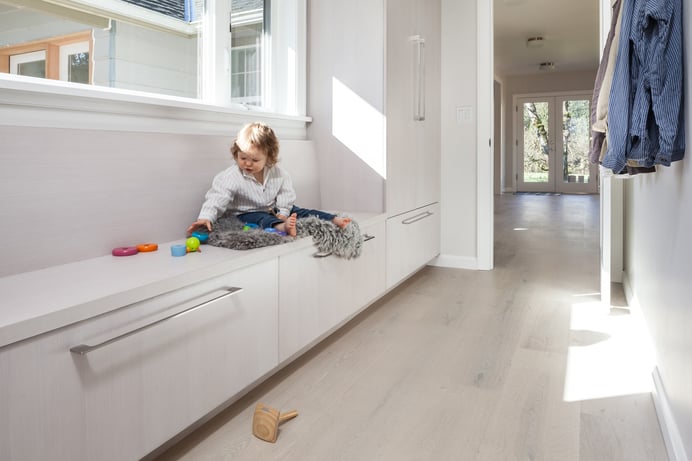 Hard wax Oils:
As the name suggests, hard wax oils are made up of naturally produced 0% VOC organic hard wax oils making these finishes one of the most environmentally friendly option for hardwood floors. Zero VOC means no volatile organic compounds that contribute to interior air pollution and can combine with nitrogen oxides to form ground level ozone. The oils can be derived from many natural sources such as Lin Seed or Carnauba palm tree and they tend to give a matte look to a floor. Hard wax oils are 1 coat finish which comes in clear coat as well as various color options. Ideal for medium to high foot traffic areas such as living rooms, restaurants and office floors. Hard wax products are typically very user friendly, and simple to maintain and re-fresh. Rather than a surface build, these type of finishes react with the cell structure of the wood itself, rather than creating a plastic urethane film over the surface. Popular brands: Rubio Monocoat 2C, Bona Craft Oil, Pallmann Magic Oil 2K.
Castle Bespoke floors are typically pre-finished with Hard-Wax finishes, as we want to give our clients the least toxic surface, that is easy to maintain, and will look beautiful for many years to come.