Wood flooring is a classic trend that is always in style. As such, installing hardwood floors can significantly increase the value and appearance of your home—especially when choosing a luxury species. To learn more about some of the most popular types of luxury hardwood flooring species, continue reading.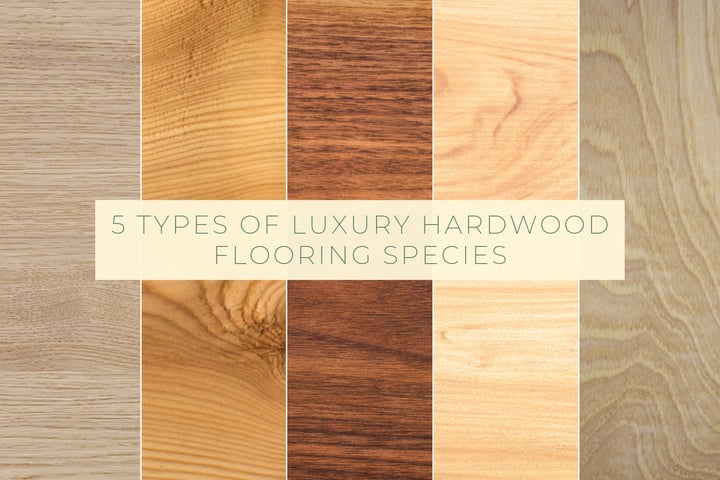 White Oak
White oak is one of the most durable species of luxury hardwood flooring. Receiving a Janka hardness score of 1360, it can withstand daily use without experiencing excessive denting. Often admired for its appearance, it has a subtle grain with a linear sap streak which helps visually lengthen a space. One of the main advantages of white oak is its versatility—it is available in short and narrow planks as well as long and wide ones. Additionally, it absorbs colored stains/finishes very well, in order to form a variety of colors, and it is available in both solid and engineered structures. White oak flooring is suitable for almost any room, and some homeowners even install it on the walls or ceilings. Due to its many attractive features, white oak is a mid to high range product, typically costing anywhere between $5 to $18 per square foot.
Larch wood
Larch wood is well-regarded for its flexibility and durability as well as its timeless appearance. The wood generally has a straight grain that may have some small knots and is medium to coarse in texture. With a Janka rating of 830, it is one of the hardest softwoods in the United States. As a dense and durable softwood, it is suitable for most home environments such as living rooms, bedrooms, and kitchens.
Walnut (AKA American or Black Walnut)
Walnut is a softer hardwood, scoring only 1010 on the Janka hardness scale. Since walnut floors aren't very durable, they are best suited for areas of the home that don't have a lot of foot traffic. While the grain of walnut planks is generally straight, it is occasionally more wavy or curly. Like its grain, there is also a wide variation in the color of walnut which can range from lighter to dark tones. Walnut is a relatively expensive flooring option that typically costs between $6 and $20 per square foot for the wood boards alone.
Hard Maple
Hard Maple is a durable flooring option with a Janka score of 1450. While it is resistant to dents, it will scratch. If such scratches occur, they are typically highly visible due to the wood's smooth and sleek grain. Hard maple is the most common species in athletic wood flooring. While hard maple can absorb stain, many woodworkers suggest keeping it in its natural state as such stains can appear blotchy or unnatural. Hard maple is typically more expensive than oak and ranges from $6 to $15 depending on whether it has stain and sealant or not, as well as plank size, and grain structure. If you live in a warmer climate that has high humidity levels, it's best to avoid maple hardwood flooring as the moisture may cause the boards to warp.
Hickory
Hickory hardwood flooring scores 1820 on the Janka hardness scale and has a strong resistance to scratches and dents. Hickory is good at retaining stain and you can purchase it in various colors. For some homeowners, the wood's unique grain pattern, which features mineral streaks and knots, is attractive. It also boasts a range of contrasting colors such as browns, tans, and red shades. The wood's rustic appearance is also helpful in hiding any scratches or dents. If you choose hickory flooring for your home, you can typically expect pricing to range between $6 and $18 per square foot, not counting installation costs.